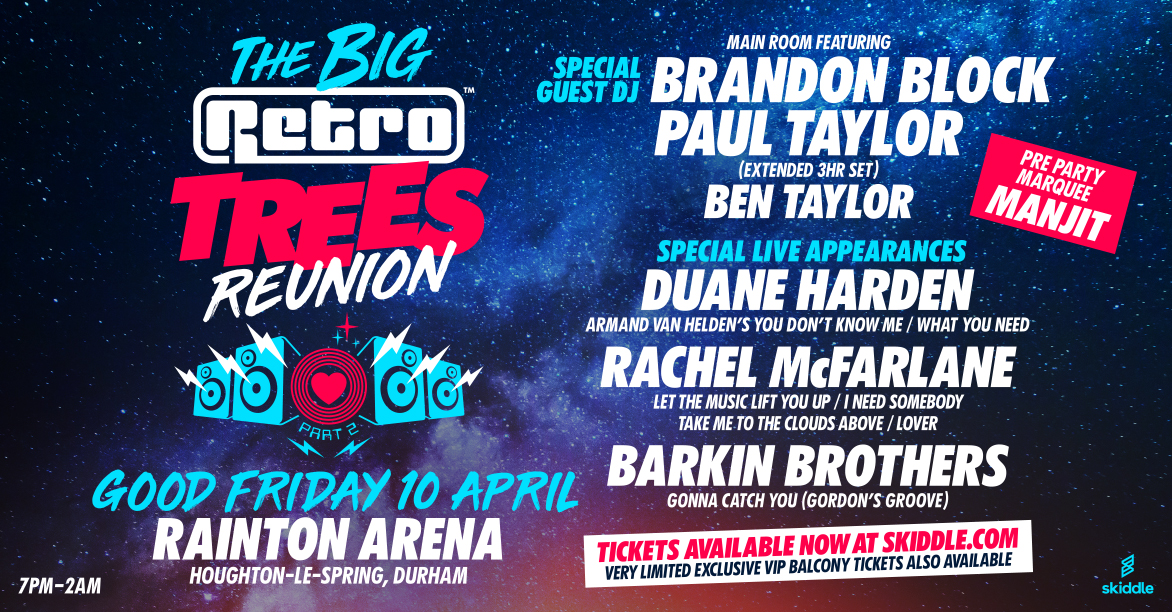 GOOD FRIDAY 10 APRIL 2020
Rainton Arena
For our next reunion we're going back to where the reunions began, the epic Rainton Arena. 
Under new ownership and looking super swish after a big refurb, we are over the moon to have secured the venue for our next party. AND IT HAS A VIP BALCONY! 
It's so close to the real deal that we can't wait to get the Retro family back in there. 
TICKETS ON SALE NOW!
We welcome firm Retro favourite Brandon Block back to headline the main room alongside a 3 hour set from the boss Paul Taylor!
We also welcome THREE very special live acts in the form of Duane Harden (You Don't Know Me / What You Need), Rachel McFarlane – the voice of Loveland (Let The Music Lift You Up / I Need Somebody / Take Me To The Clouds Above and Lover) & Barkin Brothers (Gonna Catch You)
So what do we need for the ultimate reunion?
– North East location
– Middle of nowhere
– Massive FREE car park
– Top notch sound system
– Amazing lighting and effects
– Thousands of your Trees and Retro family
– All your favourite Trees tunesIt's time to relive the best nights of our lives once again. 
From 7pm – 2am
Line up coming soon – expect big favourites from way back and maybe a surprise or two!
Rainton Arena have strong relationships with local taxi firms and local hotels, WE WILL post information soon.