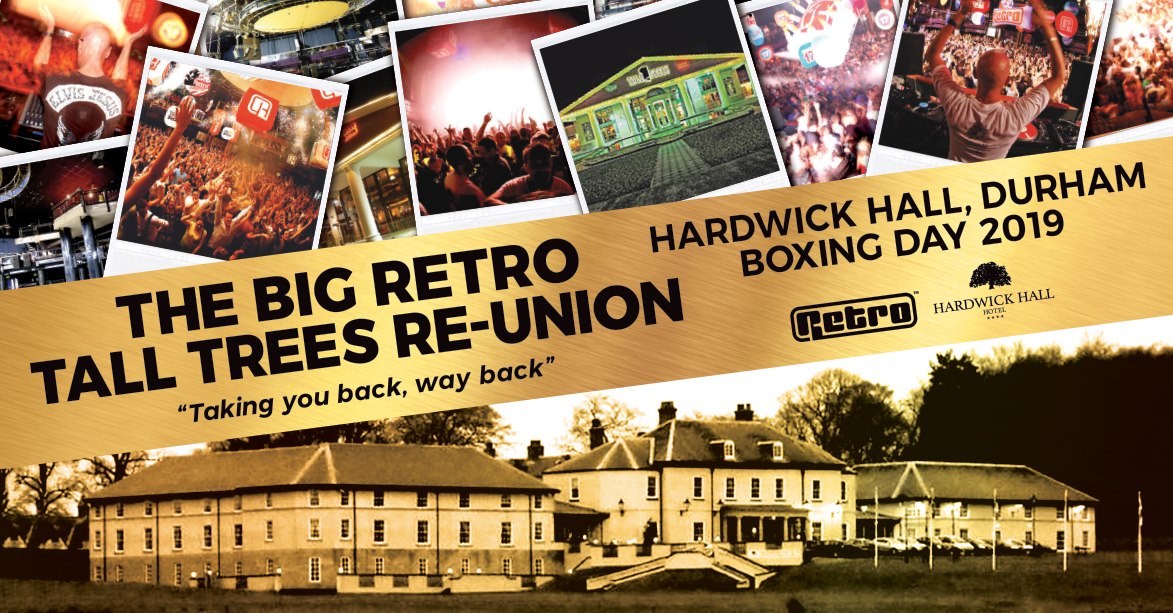 BOXING DAY 2019
Hardwick Hall Hotel, Sedgefield
We've searched far & wide to find the perfect place to relive the Retro Tall Trees days. Never to be beaten – but we can get pretty damn close. 
ALMOST 50% SOLD OUT IN DAY ONE. TIX ARE OFF SALE FROM 21 JUNE AT 11.45PM TO 9AM 29 JUNE.
Introducing the BIG Retro Tall Trees Reunion at the beautiful Hardwick Hall, Sedgefield (home of the legendary 'To The Manor Born' nights). 
For one night only, the whole place is ours, what a Christmas it's going to be.
So what do we need for the ultimate reunion?
– North East location
– Middle of nowhere
– Actual tall trees
– Amazing hotel attached to the club
– Beautiful grounds complete with gravel drive & water feature
– Massive car park
– Coaches organised from major towns and cities
– Top notch sound system, lighting and effects
– Thousands of your Trees and Retro family
– All your favourite Trees tunes
= Best nights of our lives
FREE PRE PARTY from 7pm in the Lounge Bar.
Club opens at 9pm.
LINE UP COMING SOON – nothing but your favourites from way back!
HOTEL SOLD OUT
TRANSPORT
In true Trees style, organised coaches are available to book from all major towns and cities in the North East. Booking details coming soon.
TIX ON SALE AT 9AM FRIDAY!